Counselling, Therapy & Coaching room to rent – Liverpool St station, City of London EC2M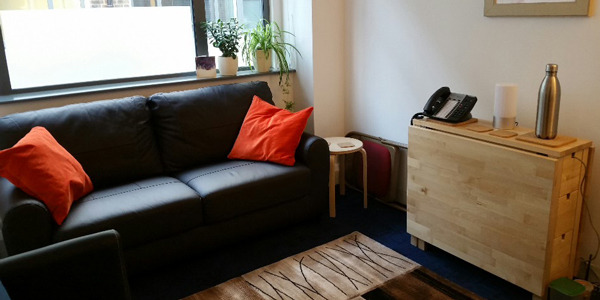 A counselling/therapy/coaching room is available to rent on an ad hoc hourly or regular weekly basis. It is in a fantastic location, one minute's walk from the entrance to Liverpool St station in east central London, bordering both the financial district in the City of London and Shoreditch's creative/tech district. I use this room approximately 3 days per week to see my own clients. it is available to rent from me at the times when I am not using it.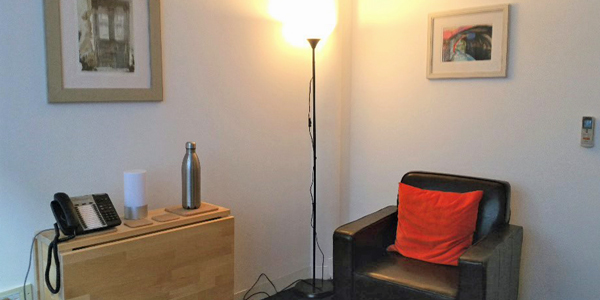 The room is tastefully decorated, with an ample sofa (wide enough for couples as well as individuals) and therapists chair, and a drop leaf table if you are wanting to work on a laptop or spread documents. The room has its own private internet/wifi connection.
If you are interested in renting it from me, please contact me via the contact form on this website.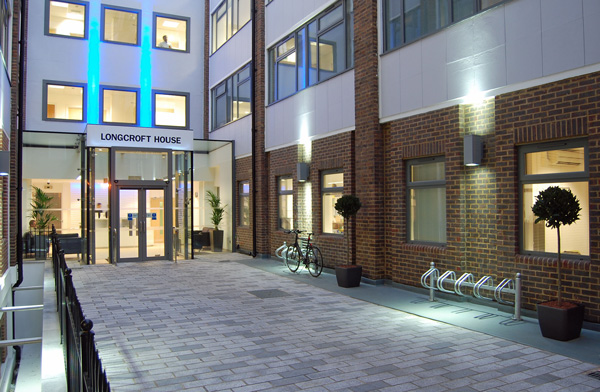 The room is located on the 3rd (top) floor of Longcroft House, a small business/counselling centre located in a tranquil courtyard. The building features reception / waiting area, lift/wheelchair access, free wi-fi, multiple toilets & showers, resting and kitchen areas, free private bicycle-parking.
The reception area is staffed weekdays from 8.30am to 6pm. During evenings and weekends you have your own access to the building and are free to manage your clients yourself.
I am looking for people to rent the room for a minimum of 2 one hour sessions per week. This could be on an ad hoc basis or it could be a regular weekly block booking. Prices start at £16.50 per hour during weekdays and £14 per hour on weekends.
Currently there are morning, afternoon and evening sessions available on Mondays, Tuesdays, Saturdays and Sundays. There are afternoon and evening sessions available on Fridays.
For more information or to discuss renting this room, please contact me (Daren De Witt) via the contact form on this website, or phone me on 07968034828.