Nonviolent Communication Skills & Conflict Management Training and Coaching Online, London & UK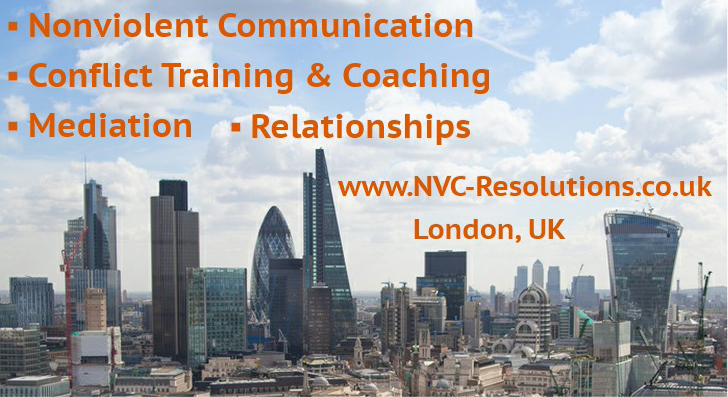 NB. Due to government restrictions related to Covid19, Daren is currently offering training, coaching and counselling in an online format only, rather than face to face. Contact Daren to discuss your options.
Our main offerings are:
Nonviolent Communication training course for the general public
Communication and conflict management skills training for organisations
Nonviolent Communication coaching for communication and conflict management
Relationship counselling / marriage guidance
Mediation for organisations or individuals
Peer Mediation and conflict training for schools
Scroll further down this page for a fuller list.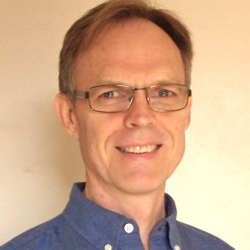 NVC Resolutions is the website of Daren De Witt, a qualified trainer with, and senior London representative of, the internationally recognised Centre for Nonviolent Communication. Daren has a passionate desire to help people relate to one another with more care and compassion.
As well as offering Nonviolent Communication trainings for the public and organisations, Daren also offers conflict management training and mediation for organisations, anger management counselling, relationship counselling, voice dialogue coaching, and peer mediation for schools. Please explore this site to see how Daren can support you.
Contact Daren on 07366 444 634 or nvcresolutions[at]gmail.com

An overview of this website's offerings for you
Nonviolent Communication Public Workshops
We offer Nonviolent Communication trainings for the general public. We run a regular programme of foundation and post-foundation trainings in London, as well as running occasional trainings in other UK cities and abroad. Visit our NVC Public Workshops page for more information.
Individual Coaching and Counselling
We offer individual coaching and counselling and support in various formats. Go to our NVC Coaching page to find out about conflict resolution and communication skills coaching for private individuals, as well as for staff in businesses or organisations. Daren also specialises in Anger Management Coaching, so contact him if you have difficulty controlling your anger.
Conflict Management Training and Nonviolent Communication Skills Training for Organisations and Businesses
For organisations and businesses we offer cutting edge communication skills and conflict resolution skills training using the Nonviolent Communication (NVC) process, which is internationally recognised and recommended by leading international organisational coaches. Visit our Workplace Training page for more information.
Relationship Counselling
As well as Nonviolent Communication skills, Daren has specialist training in Couple Counselling and Relationship Psychotherapy. He offers counselling sessions for couples from his practice near Liverpool St station in east central London. Visit our Relationship Counselling page to find out more.
Peer Mediation & NVC for Schools
Daren offers Peer Mediation training for primary and secondary school students. Visit our Peer Mediation page for more information. Daren also delivers other trainings for schools, including communication skills and conflict resolution skills for staff and students, which you can read about on the same page.
Mediation for Individuals, Organisations and Businesses
We offer mediation support for individuals experiencing conflicts in their personal lives, as well as for organisations and businesses. Mediation is growing in popularity in the UK as a quicker, more economical and more harmonious way to resolve disputes than traditional methods of dispute resolution. Visit our Mediation page for more information.
Nonviolent Communication Online Resources
We have assembled a range of Nonviolent Communication resources on this website. For an overview of the Nonviolent Communication process, visit our About Nonviolent Communication page . We have a list of links to free audio and video clips of Marshall Rosenberg talking about Nonviolent Communication which you can view on our NVC Online Resources page . On this page we have also assembled a list of links to the more important NVC sites worldwide, as well as a range of other NVC internet resources.
Where do we work?
Daren lives in Hastings on the south coast of England. He also has an office in central London. His public workshops take place mainly in London, currently mainly in Hackney, midway between Hackney central and Victoria Park village on the southern border of Hackney in East London. His central London office is located one minutes walk from Liverpool St station in the City of London. Here he sees clients individually for counselling and coaching. This locations are easily accessible from many parts of London, including Central London, The City of London, Shoreditch, Bethnal Green, Hackney, Islington, Camden, Kensington and Chelsea, Lambeth, Southwark, Tower Hamlets.
For organisational training, Daren is open to travelling to you, wherever you are based, in London or in the counties surrounding London – Hertfordshire, Essex, Kent, Surrey, Sussex, Middlesex, Berkshire and Buckinghamshire. Also, elsewhere in the UK, eg Brimingham, Manchester, Leeds, Liverpool, Sheffield, Edinburgh, Bristol, Leicester, Coventry, Bournemouth.
Daren also offers counselling & coaching support online via Zoom or Skype. Contact Daren to discuss the support he can offer you.